Hold On! Do not buy into The Last Goldmine by Jaime Lewis until you have had a chance to read my unbiased and honest The Last Goldmine Review! Take the next few minutes reading my version of The Last Goldmine Review and you will get a better understanding of this program by the time you finish reading, so kick back and enjoy!

Name: The Last Goldmine
Website: http://www.thelastgoldmine.com
Owner: Jaime Lewis
Price: $47 plus there are upsells
Overall Ranking: 50 out of 100
The Last Goldmine Overview
Jaime Lewis is a self-made internet millionaire that is going to share his knowledge with you in this program and software that he has learned over the years. He considers himself the modern day Robin Hood of Internet Marketing, cause he going to lift the veil off of Internet Marketing forever and is going to retire after making this video for you. In this video, he takes a lie detector test with a certified tester named Michael Mancuso who is retired from the New Jersey Police Dept. He is video taped taking the test, but you do not see any of the results they just tell you about them after the fact. He will explain to you how to get real traffic and how to turn it into dollars in your bank account. He sells this as so stupid easy to make lots of money as long as you have a head on your shoulders and a PC or Mac, once you plug into his system it will be almost impossible for you not to make money from it. The Last Goldmine also has a 60-day money back no questions asked guarantee.
Pros and Cons
Pros
Offers his personal help after 2 weeks on your own
The training videos are easy to follow
You can make money if you are willing to work on it
Basic Internet Marketing training
Cons
Old school marketing
Upsells
2 weeks on your own trying to learn as a newbie would be hard to understand
Who Is The Last Goldmine Really For?
This system was set up for everyone to make money on, the internet gurus so they can make money off there email list by spamming all of the there people to get a few to sign ups. As a newbie, you can make money but you will not get the hang of it in less than 60 days it takes awhile to learn how to do the stuff he is teaching you on his videos. One good thing I noticed is that Jaime Lewis is not having a contest for affiliates to make extra money promoting this launch that is a good thing.

The Last Goldmine Tools And Training
The training videos are very well put together in showing you how to do some of the old school marketing from his previous experience. There is a video to teach you how to make simple money on Fiverr, Craigslist and freelancing. A second video on how to do PPC, Third how to make money on YouTube videos, and another one on Craigslist. There is also a tool at the end called WebSiphon where you pick out your niche and domain to put on your website that you would have to build yourself if you had your on hosting there are 250 of them here, but they are only from ClickBank. Then there is hosting that he offers that you will have to pay for to set up for 2 years at $262.80. Oh, yea almost forgot he explains to you how to flip domains and websites for profit.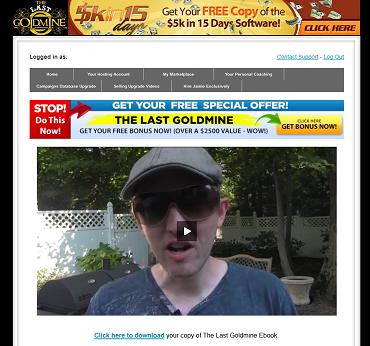 The Last Goldmine Support

He promises you 1 On 1 training with him after you have been here 2 weeks and will stay with you after if you want to pay for his services.
Price For The Last Goldmine
It will cost you for the basic membership a one-time charge of $47 that is just for 1 niche website. There is a $297 charge for unlimited web site niches to run thru his system for real traffic or you can pay $197 for 50 of them. To teach you how to flip domains and websites he is charging $189. There are down sells on some of these after you tell them no thank you.
My Final Opinion of The Last Goldmine
Well, my opinion of this is that it is not a bad deal at $47 which if you exit out a few times you can get it down to $17. For newbies, it is OK to get because he does teach you a lot of good things you would need to know about internet marketing. But for the veteran marketers there is just not much more here than what you already know or have learned on your path to riches.The tool that you get with your basic sign up is OK if you want to promote ClickBank products which are OK if you can market them properly and profitable. I do know of a better tool then this it is the one I use all of the time which is called Jaaxy this one research all of your own keywords and it also lets you know where you can get affiliate products to promote for your niche, plus domains and a lot more. This system that Jaime Lewis is giving you is OK but basic. So if you would like to try The Last Goldmine out I give it a few thumbs up just because he is being honest about it also. Now that I have concluded The Last Goldmine Review I hope you have enjoyed it!
Verdict:
My main product that I back 100% is Wealthy Affiliate because they care about you and are will help you succeed in your online business, so if you are interested in this one just CLICK BELOW.

If you have any questions about the content in this website, the products or services mentioned, or any question at all really, please feel free to contact me at the following email address. It would be great to get any feedback or comments about our site if you've found it helpful or have thoughts on how I can improve the site.
Please contact me at tommy@safestplacetoavoidscams.com
You can also leave your comment below if needed
I reply to all messages as quickly as possible.
Tommy